Lutheran Symbols/Seals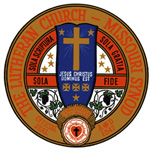 The
official seal
of The Lutheran Church—Missouri Synod is a unique blend of symbols and words.
In the center is
a blue shield, representing the Christian's faith;
a prominent gold cross proclaiming that we preach Jesus Christ crucified and risen from the dead;
Latin words under the cross reading "Jesus Christ is Lord";
three equilateral gold crosses symbolizing the Holy Trinity;
three gold stars on the shield standing for the three Christian creeds: the Apostolic, the Nicene and the Athanasian.
Beneath the shield is Luther's seal (see description below).
Three gold stars on each side of the shield stand for the six Lutheran Confessions that were published in one book, titled "Concordia," in 1580.
Grape vines fill the bottom white spaces, symbolizing Christ's words in John 15:5.
Around the inner circle are the words on which Lutheranism is founded: Sola Scriptura, Sola Gratia, Sola Fide (by Scripture alone, by grace alone, by faith alone).
The exterior circle contains the proper name of the church and the year it was founded--1847.
The seal was designed by Rev. A.R. Kretzmann of Chicago; the drawing is by Walter Geweke, also of Chicago.

Dr. Martin Luther's
seal
expresses his theology and his faith. He designed it himself. In the center is a
black cross
indicative of Christ's dreadful sacrifice on the cross for every sinner who ever lived.
The cross
is in the center of a red heart, to show that faith causes love, joy and peace to grow in the human heart.
The red heart
is on a white rose (Luther's favorite flower) because white is the color of angels and blessed spirits.
The white rose
is against a blue-sky background to symbolize the Christian's hope for the coming joys of heaven. The seal is enclosed in a
gold ring
, showing that the bliss of heaven is unending. Luther's seal is not used as an official symbol of The Lutheran Church--Missouri Synod. However, it is incorporated into theSynod's official seal to show our acceptance of Luther's doctrines. The seal has been used by Lutherans worldwide.