Worship
Sunday Service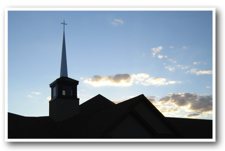 -
9:00am
Education Hour
- 10:15am
Directions

YouTube Streaming Channel - Divine Services
Readings for:
December 5, 2021

Second Sunday of Advent
First Reading

Malachi 4:1-6
Second Reading
Romans 15:4-13
Gospel Reading
Luke 21:25-36
Liturgical Color
Blue
Lectionary Summaries
lutherancalendar.org
Rev Vance and Linda Becker - Serving the Lord in Kenya
Stewardship
Luke 21:28 – "Now when these things begin to take place, straighten up and raise your heads, because your redemption is drawing near." When the world starts to fall apart, when things go badly, when nation rises against nation – Jesus tells us to lift our heads because redemption is nigh. What a wonderful reminder that we Christians really do have nothing to fear! Jesus has conquered sin, and He will deliver the full victory to us in His Second Advent. Therefore, we are free to live godly, generous, faithful lives for we have nothing of which to be afraid.
Life Message
"When we have eyes of faith, eyes that recognize these delights are gifts from God, then we realize that what we're missing, what we should be longing for, what we cannot live without, isn't Amazon or Starbucks or McDonalds. It's Him. And when we have Him, every other gift makes sense. Every other gift falls into its proper place." Michelle Bauman, Director of Y4Life for Lutherans For Life - A Life Quote from Lutherans For Life
www.lutheransforlife.org
What About Life
Lutheran Resources
What About Marriage