Worship
Sunday Service
9:00am
Education Hour
10:15am
Directions
---
News
What About Marriage
What About Life

---
Lutheran Resources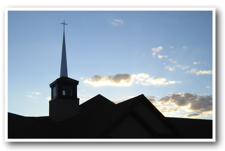 Readings for:

August 24. 2014
10th Sunday After Pentecost

First Reading

Isaiah 51:1-6
Second Reading
Romans 11:33-12:8
Gospel

Matthew 16:13-20
Liturgical Color
Green

Lectionary Summaries
Stewardship
Romans 12:1 "I appeal to you therefore, brothers, by the mercies of God, to present your bodies as a living sacrifice, holy and acceptable to God, which is your spiritual worship." That's the order: God's mercies, then our sacrifice. Since God's mercies are all-encompassing, so is our sacrifice: a total sacrifice, our total selves placed over into God's service according to how He has called each of us individually to serve in Home, Church, and Society.
Life Message
"Children are never too young to learn that life is precious. And teaching our children the value of life will lead them not only to reject abortion. It will also lead them to reject suicide and other unnecessary violence. If life is precious, no one has the right to destroy it to make his or her own life easier." Kristi Burton Brown, stay-at-home mom and pro-life attorney (volunteering for Life Legal Defense Foundation and also as an allied attorney for Alliance Defending Freedom) – A "Life Quote" from Lutherans For Life –
www.lutheransforlife.org
Sunday School
Classes begin in September
---