Worship
Sunday Service
9:00am
Education Hour
10:15am
Directions
---
News
What About Marriage
What About Life

---
Lutheran Resources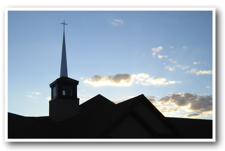 Readings for:

September 14. 2014
14th Sunday After Pentecost

First Reading

Genesis 50:15-21
Second Reading
Romans 14:1-12
Gospel

Matthew 18:21-35
Liturgical Color
Green

Lectionary Summaries
Stewardship
John 12:25 "Whoever loves his life loses it, and whoever hates his life in this world will keep it for eternal life." Jesus' kingdom is always upside down and backwards like this: the first are last, the who loses his life gains it, give it away and a full measure falls into your lap. But it's really not Jesus who is upside and backwards, is it?
Life Message
Why should the Church speak out for life? Because people in the Church are not immune to the problems of life and it is the obligation of the Church to equip them through the Word of God to make God-pleasing decisions. The reality is if the Church fails to speak, it leaves its people vulnerable to the siren song of personal autonomy that says 'think about yourself … you can do whatever you want.' But Christians know differently. We are not our own, we were bought with a price! (1 Corinthians 6:19-20)" Diane E. Schroeder, former president of Lutherans For Life – A "Life Quote" from Lutherans For Life –
www.lutheransforlife.org
Sunday School
September 14, 2014: God Creates Adam and Eve
---