Worship
Sunday Service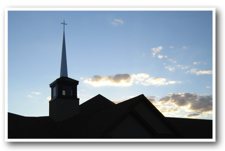 9:00am
Education Hour
10:15am
Directions
Readings for:

May 24, 2015
Day of Pentecost
First Reading

Ezekiel 37:1-14
Second Reading
Acts 2:1-21
Gospel Reading
John 15:26-27; 16:4b-15
Liturgical Color
Red

Lectionary Summaries
Stewardship
Acts 2:1 "When the day of Pentecost arrived, they were all together in one place." Pentecost was the Old Testament harvest festival: a time of thanksgiving, bounty, and the giving of gifts. How appropriate that in the New Testament it takes on the meaning of harvest the ripe fields of the nations, bringing in the elect of every tribe and tongue to sing the Lord's praise. Every farmer knows that it is God who gives the increase, that harvest calls for thanksgiving.
Life Message
You and I will one day die. But the truths of Scripture we uphold when it comes to the sacredness of life will never die. That is why it is so important to not only protect and defend God's gift of life, but also to protect and defend His truth about what gives value to life. If we lose the latter, the former will quickly erode. Thank you for being people who are 'holding fast the word of Life' (Philippians 2:16)!" Rev. Dr. James I. Lamb, executive director of Lutherans For Life – A "Life Quote" from Lutherans For Life –
www.lutheransforlife.org
Sunday School
See you in September 2015
What About Life

News
Lutheran Resources
What About Marriage
---